Cave Exploration in Waegital, Kanton Schwyz, Saturday/Sunday, July 28-29, 2001
Participants: Simone Buchmann, Andreas Dickert, Fredy Fleury, Andreas Neumann, Thomas Preisig, Mirko Sennhauser
Click to enlarge image ...
Ascent to Zindlenalp, View to "Waegitalersee" ...
Mann he - is der Rucksack schwer ... (means this rucksack is pretty heavy ...) - Andi D. while ascent to Zindlenalp
Looks like this one is just as heavy ... - Simone while ascent to Zindlenalp
... no press please!
Simone enjoying the ascent to Zindlenalp
Fluhberg at the opposite side of the lake.
Have a break - "Untere Zindlenalp" - Thanks for the coffee ...
Our next 'Abseil-Project' - Perhaps upper entry of 'Lachenstockhöhle' :-) ..
Lachenstockplateau - our area of interest
Our 'home' - the 'Obere Zindlenalp' ...
... life among 400 sheep
The Plateau from 'Obere Zindlenalp'
Zindlenspitz, seen from the Karst-Plateau
Entrance K10-Zindlenhoehle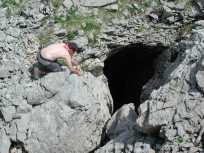 Fredi fixes the rope for entrance K10
Fredy at entrance K10
Simone prepares for the strenuous tour ...
Fredy climbs 'Feuersteinschlot'
Fredy leaves the 'Dreckloch-Roehre'
Fredi, K10
Fredi, K10
Fredi, K10
Really don't know which one ...
... is better
To get images at full resolution with less jpeg-artefacts contact Andi.